I'll confess. I visited the Mauritshuis with one objective: to see Johannes Vermeer's Girl with a Pearl Earring. Following my visit to Delft, where I retraced Vermeer's steps through historical and artistically relevant sites in his hometown, I just had to see his masterpiece in person. A day trip to The Hague, The Netherlands was in order.
As an Art Historian, it shames me to admit this. I normally scoff at the people who brush past all the fantastic artwork in museums in order to snap a selfie next to the most famous piece. Not wanting to join their ranks, I did my homework.
The Mauritshuis Royal Picture Gallery is a small museum in the heart of The Hague's historical center. Situated right next to the city's Government Center and the Binnenhof, it is easily accessible on foot from The Hague Central Station, tram, or bus. Car parking is also convenient. Nearby, there are many other historical, cultural, and recreational sites to visit. Noordeinde Palace, the Dutch Parliament, the Peace Palace, and the Escher Museum are just a few attractions in the Royal City by the sea. In fair weather, you can enjoy people-watching in an outdoor cafe, admire the swans in the Hofvijver (pond in the center of The Hague), or have a swim at the beach on the North Sea Coast. Raining, cold, and windy? Combine your trip with shopping or a peek into one of the city's other world-class museums. Visit denhaag.com for more information, insider tips, and travel itineraries.
Tip: Make it a day! Start at the Mauritshuis, then see the city's most essential sites in a few hours time by following The Hague in a Day walking itinerary.
We chose to make ours just a quick trip to the Museum during off-peak hours. It was raining, not too far of a drive, and I had two children in tow. For us, one museum in one afternoon was ambitious enough. 
Tip: Plan your trip on off-hours to avoid the crowd. Visit after 3 pm, on Monday afternoon, or on Thursday evening.
We arrived on a Wednesday around 2 pm. Our timing was perfect. There were no lines to enter or at the ticketing desk. The museum was not empty, however. If you want to see the artwork up close, I highly suggest careful planning as well as purchasing tickets in advance. 
Tip: Download the free Mauritshuis Tour app before your visit. You may also borrow a device at the cash desk at the museum (€3,50).
The museum is a beautiful building in itself, and not without its own history.  The 17th-century home of count Johan Maurits van Nassau-Siegen has evolved from palace to guest house, survived through fire and reconstruction, and undergone formidable expansions before becoming the museum it is today. As we wandered through its halls, we felt more like we were exploring the intimate chambers of an old estate rather than a modern museum. 
The rooms are small in scale, but big in impact. Advertised as exhibiting "the best Dutch paintings from the Golden Age", the Mauritshuis does not disappoint. Each room is laden with treasures. Works by Frans Hals, Jan Steen, and Peter Paul Rubens dot the walls. There is an entire room dedicated to the paintings of Rembrandt van Rijn, including Self-Portrait and The Anatomy Lesson of Dr Nicolaes Tulp. Museum-goers are afforded a close-up, in-person view of Rembrandt's paint handling. Any artist would characterize this as the opportunity of a lifetime. I certainly did.
Tip: Most of the Mauritshuis collection is available in zoomable high-definition images online.
Ah, but let us return to the subject of Vermeer. The Mauritshuis collection boasts 3 of his only 36 total known paintings: Diana and her Nymphs, View of Delft, and Girl with a Pearl Earring. I was thrilled with all of them. The light, the color, the depth achieved by layer upon layer of transparent oil paint. Just stunning.
The object of my quest, the painting dubbed, "the Dutch Mona Lisa" was certainly the highlight of my visit (although I was by that point feeling somewhat ashamed of my original objectives). Unfortunately, like its Italian counterpart, this painting attracts more than its fair share of attention, while many nearby and equally exquisite paintings are largely ignored. I was hoping to have my personal chance to view it up close, admire it from afar, and even sit and sketch it. Alas, I was forced to wait in line for my fleeting moment's glance, or attempt a long-distance gander through a sea of spectators. I was disappointed by the crowd. Though I'll give them credit, there were few selfie-seekers among them. However, standing in front of the actual painting, in all its glory, was well worth it.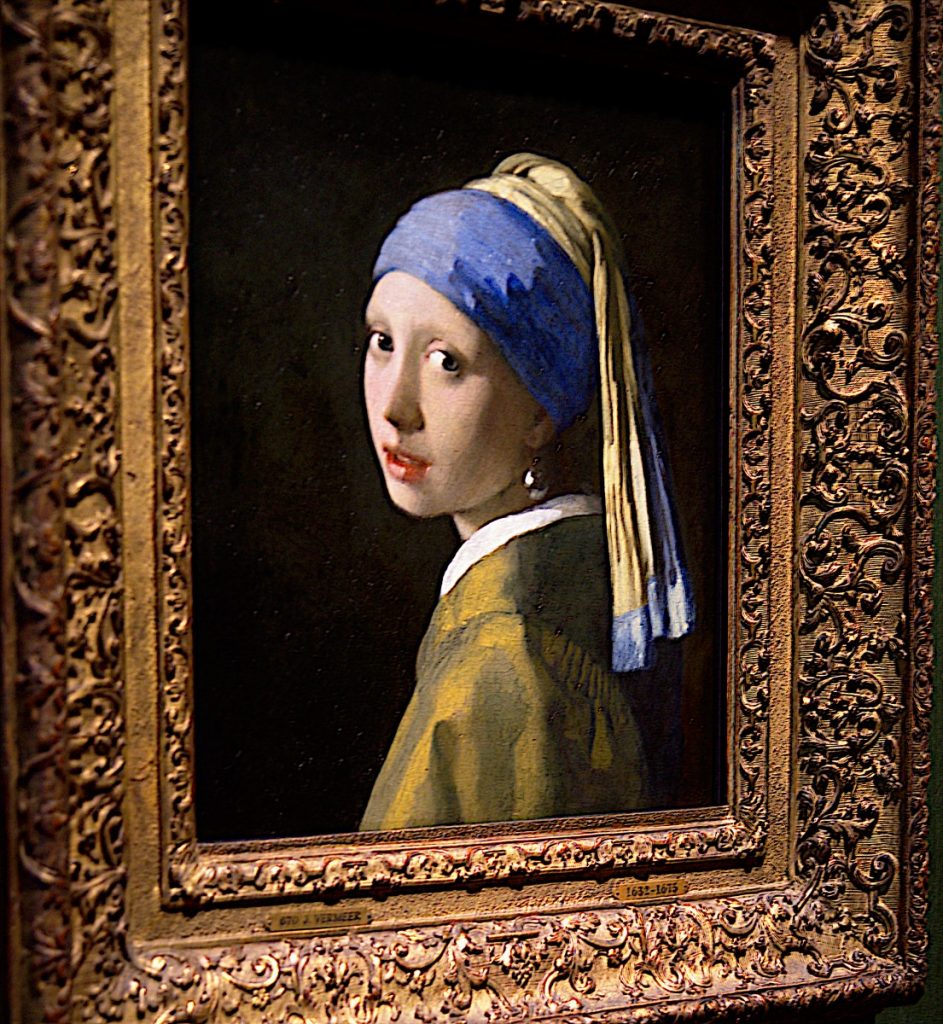 As I inched towards the front of the crowd, I became entranced. My few seconds in close proximity to that painting were awe-inspiring. Vermeer's Girl With a Pearl Earring is rendered so delicately with the paint that she seems like a spirit. There are no harsh edges, anywhere. Then you see the glittering highlights in the eyes and lips, and she comes to life. The depth of the background moves your eye into the mysterious world of the painting, but the attractive bright colors of her clothing bring you back out again. Then there is the pearl, hanging from nothing, formed from seemingly just two swipes of paint. It exudes softness. The painting is simple, but its craftsmanship is not. It is subtle and beautiful. It was moving beyond words, and far beyond what any photograph has ever been able to capture. I challenge anyone who thinks classical painting is dead, to view a Vermeer painting in the flesh.
Tip: Google Arts & Culture in collaboration with the Maurtishuis has created a virtual exhibition of Vermeer's complete works. Visit the Vermeer Project to learn more.
Can't visit in person? Discover the collection at home using the Second Canvas Mauritshuis app.